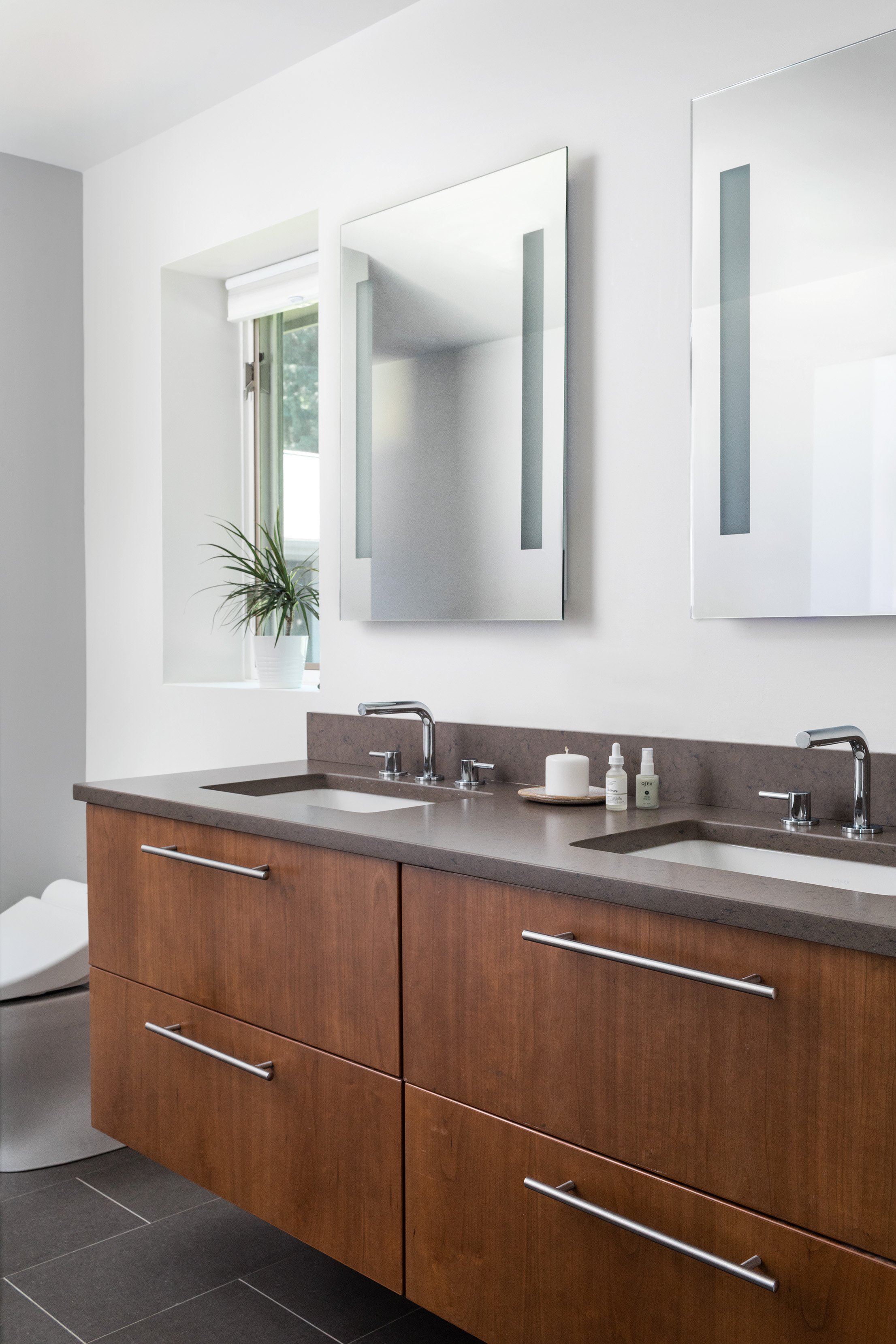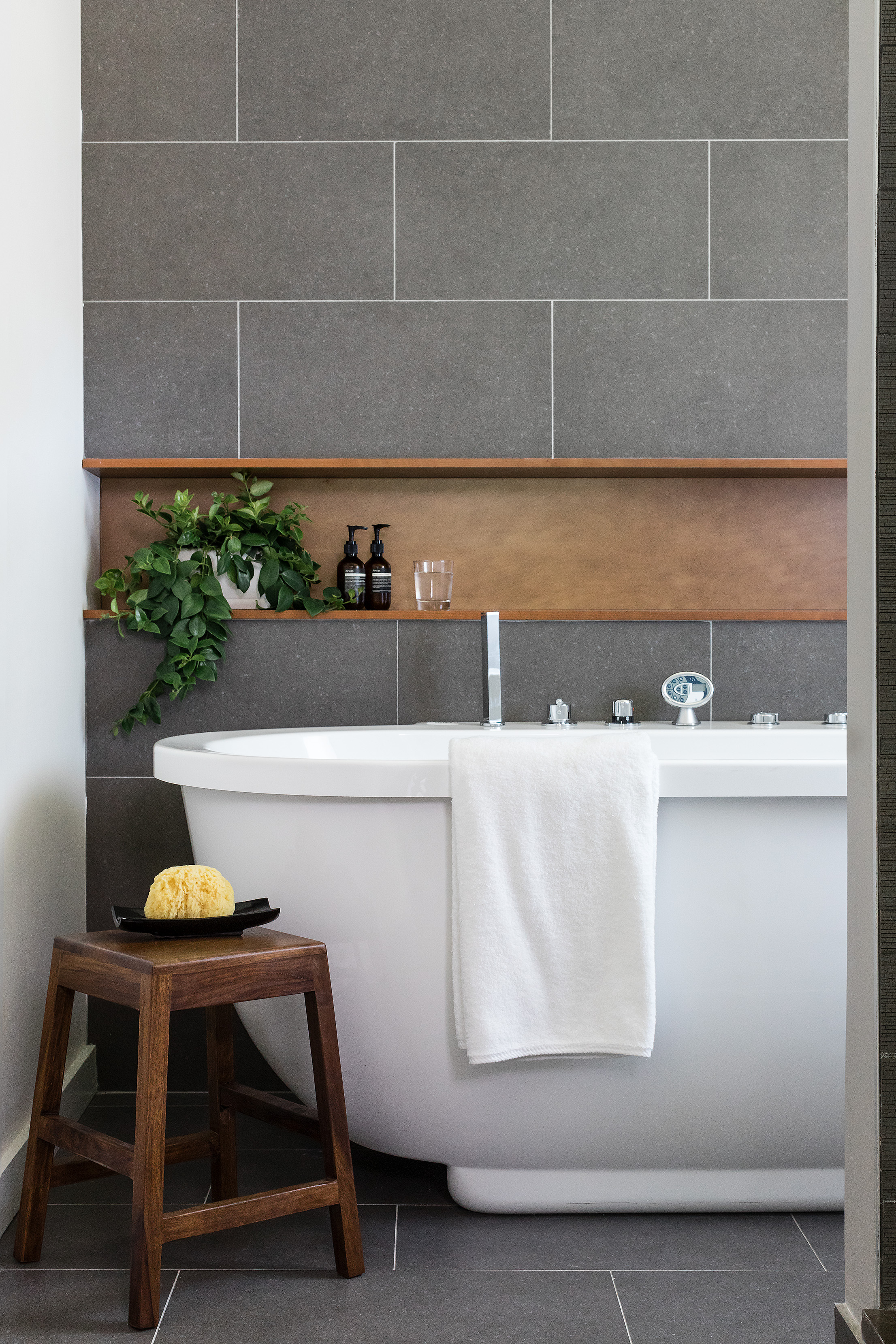 Westwood MidCentury Renovation
Interior Design
Location: Westwood, MA
Scope: Layout, Finishes (Flooring, Furniture, Paint, Lighting) Entire Home including 4 bathrooms, Living, Dining, all bedrooms, Family Room, Staircase, Rear deck and Exterior Façade
Size: 5000 sf
Role: Designer
Photography: Joyelle West
Styling: Kaylei McGaw and ID8 Design Studio
A young family of four (our clients) hired us to extensively renovate a 1960s midcentury home nestled on a quiet street in Westwood. As expected, it had a dated interior and exterior which we strategically peeled away, leaving what we needed behind while removing what we intended to replace. The biggest impact upon completion was the removal of the double sided stone fireplace which divided the living and dining. We chose to remove it to allow better flow and visibility between the two rooms. Being a small family of four, we felt the need to allow a connection between the kitchen/dining and living. The deck replaced a 3 season which had seen better days. The deck now allows the family to interact with other member while they use the pool, patio and enjoy the beautiful views the property has to offer. Seasonal landscapes and birds frequent the property regularly.
We hired Sashya Fernandes at iD8 Design Studio for our home renovation project. The project involved a significant interior and exterior renovation to a home we had just purchased. Sashya was one of five designers we met with and she was one of three who submitted a bid. Her bid was not the highest and not the lowest, but we selected her because we liked her ideas, her design sense, and her cost-conscious approach. We told her not to show us too many things that we could not afford and she respected that wish (although Houzz made it possible for us to find layouts and visuals that we would not be able to afford).

Sashya helped us select a contractor by putting the project out to bid. She did this after an extensive process of completing a set of project specs, bid specs, and permit specs (many many pages detailing every room's floor plan, fixtures, elevations of selected rooms, demo drawings, lighting drawings, etc.) It was our first such renovation project with an architect/designer involved so we were surprised by the level of detail. Sashya is very, very good at producing clear and detailed specs.

In retrospect, we spent too much time on this because the contractor we selected ended up hiring sub-contractors who did not seem to follow Sashya's project specs - causing frustration to both Sashya and us. I was pleased that she seemed to "roll with the punches" and switched approaches to focus more on construction management in order to get the subcontractors to do what we wanted. My wife and I did not have time to do detailed project management - and the contractor did not seem to be doing a good job at managing the subcontractors. Sashya is someone who can "crack the whip" on subcontractors if needed. She earns their respect - which is critical to getting the details right. For example, she cajoled the tiling subcontractor to redo the "niches" in our shower stalls when we did not like the positioning. She also convinced the carpenter to create new modern door handles and various other finishes which have made a huge impact on the final product. Her selections of lighting fixtures, railings, interior paint, and interior doors have drawn compliments from almost every visitor,

Our house really would not have had the same level of sleekness or style without Sashya's involvement.

Sashya has a good balance of detail orientation and aesthetic sense, which was a happy surprise because that is hard to find in one person. Things were not always smooth in our project (contractor delays, permit delays, ineffective subcontractors, over-budget, surprise beams, etc.). Sashya was usually part of the solution, not part of the problem. I would recommend her without reservation.